NYC Launch Party for Bobby in Naziland!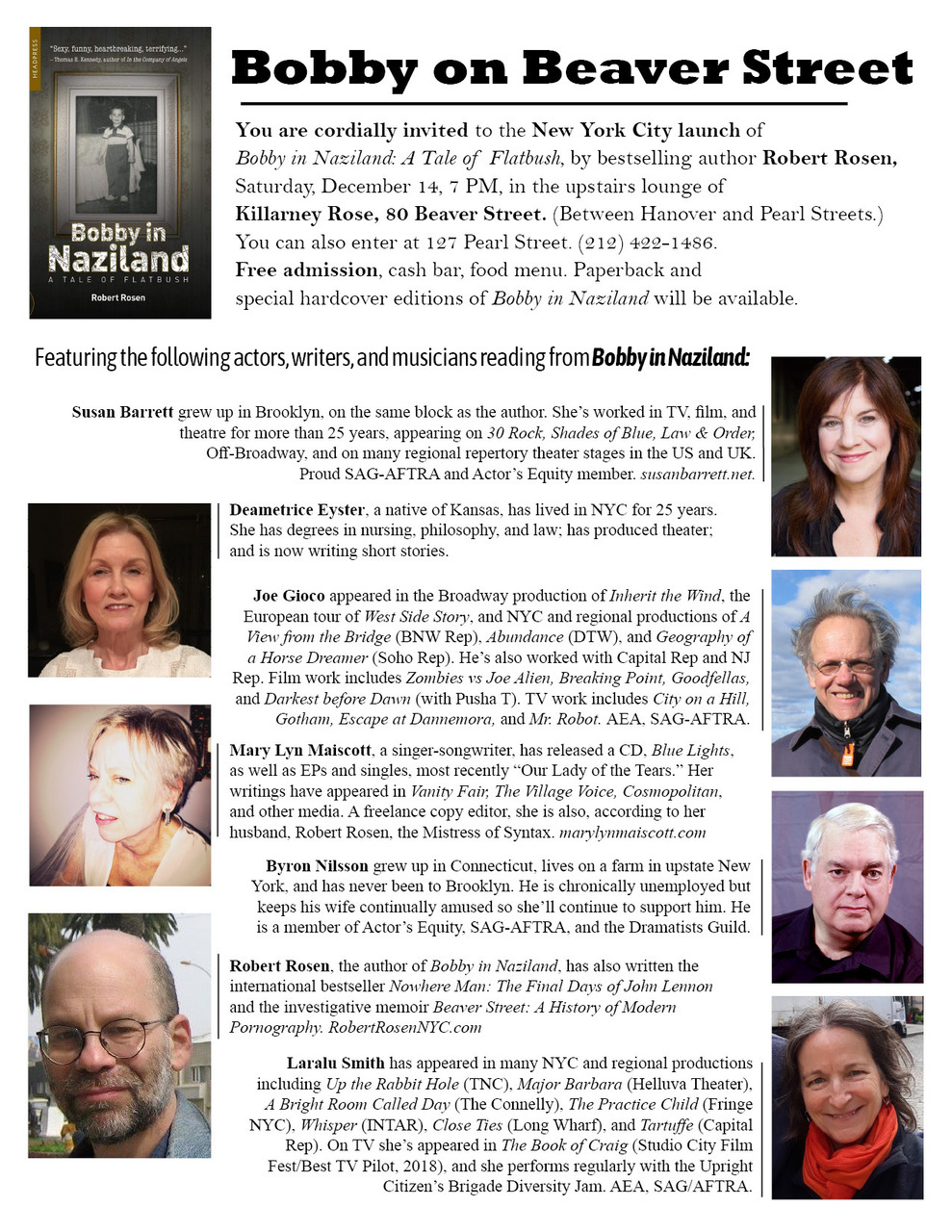 November 20, 2019
You are cordially invited to the New York City launch of Bobby in Naziland: A Tale of Flatbush, by bestselling author Robert Rosen, Saturday, December 14, 7 P.M., in the upstairs lounge of Killarney Rose, 80 Beaver Street (between Hanover and Pearl Streets). You can also enter at 127 Pearl Street.
(212) 422-1486.
Free admission, cash bar, food menu.
Paperback and special hardcover editions of Bobby in Naziland will be available.
Featuring the following actors, writers, and musicians reading from Bobby in Naziland:
Susan Barrett grew up in Brooklyn, on the same block as the author. She's worked in TV, film, and theatre for more than 25 years, appearing on 30 Rock, Shades of Blue, Law & Order, Off-Broadway, and on many regional repertory theater stages in the US and UK. Proud SAG-AFTRA and Actor's Equity member. susanbarrett.net
Deametrice Eyster, a native of Kansas, has lived in NYC for 25 years. She has degrees in nursing, philosophy, and law; has produced theater; and is now writing short stories.
Joe Gioco appeared in the Broadway production of Inherit the Wind, the European tour of West Side Story, and NYC and regional productions of A View from the Bridge (BNW Rep), Abundance (DTW), and Geography of a Horse Dreamer (Soho Rep). He's also worked with Capital Rep and NJ Rep. Film work includes Zombies vs Joe Alien, Breaking Point, Goodfellas, and Darkest before Dawn (with Pusha T). TV work includes City on a Hill, Gotham, Escape at Dannemora, and Mr. Robot. AEA, SAG-AFTRA.
Mary Lyn Maiscott, a singer-songwriter, has released a CD, Blue Lights, as well as EPs and singles, most recently "Our Lady of the Tears." Her writings have appeared in Vanity Fair, The Village Voice, Cosmopolitan, and other media. A freelance copy editor, she is also, according to her husband, Robert Rosen, the Mistress of Syntax. marylynmaiscott.com

Byron Nilsson grew up in Connecticut, lives on a farm in upstate New York, and has never been to Brooklyn. He is chronically unemployed but keeps his wife continually amused so she'll continue to support him. He is a member of Actor's Equity, SAG-AFTRA, and the Dramatists Guild.
Robert Rosen, the author of Bobby in Naziland, has also written the international bestseller Nowhere Man: The Final Days of John Lennon and the investigative memoir Beaver Street: A History of Modern Pornography.
Laralu Smith has appeared in many NYC and regional productions including Up the Rabbit Hole (TNC), Major Barbara (Helluva Theater), A Bright Room Called Day (The Connelly), The Practice Child (Fringe NYC), Whisper (INTAR), Close Ties (Long Wharf), and Tartuffe (Capital Rep). On TV she's appeared in The Book of Craig (Studio City Film Fest/Best TV Pilot, 2018), and she performs regularly with the Upright Citizen's Brigade Diversity Jam. AEA, SAG/AFTRA.