About the Author/Sobre el autor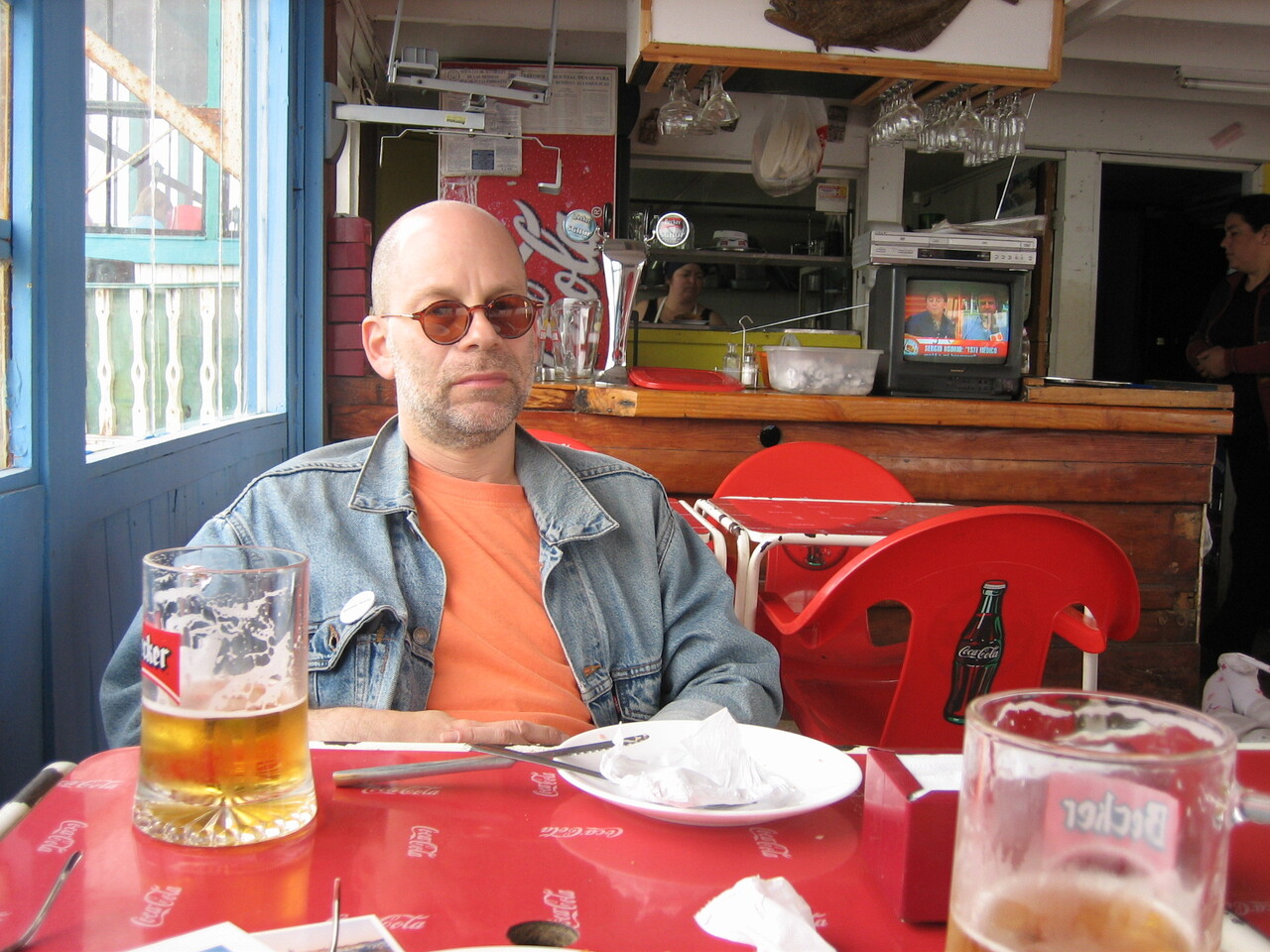 Robert Rosen is the author of Nowhere Man: The Final Days of John Lennon, an international bestseller that's been translated into many languages. His latest book, A Brooklyn Memoir, is about growing up in Flatbush in the 1950s and 60s, surrounded by Auschwitz survivors and WWII vets who fought the Nazis. His investigative memoir, Beaver Street: A History of Modern Pornography, received critical acclaim across the cultural spectrum, from Vanity Fair to academic journals to Adult Video News. Over the course of his career, he's edited pornographic magazines and an underground newspaper, written speeches for the Secretary of the Air Force, and was awarded a Hugo Boss poetry prize. Rosen's work has appeared in publications all over the world, including The Village Voice, The Independent (U.K.), Uncut (U.K.), Erotic Review (U.K.), Mother Jones, The Soho Weekly News, La Repubblica (Italy), Dagospia (Italy), VSD (France), Proceso (Mexico), Reforma (Mexico), and El Heraldo (Colombia).
Born in Brooklyn, Rosen attended Erasmus Hall High School and the City College of New York, where he studied creative writing with Joseph Heller and Francine du Plessix Gray. He lives in Manhattan with his wife, Mary Lyn Maiscott, a writer, editor, and singer.
***
Robert Rosen es el autor de Nowhere Man: Los últimos días de John Lennon, un best seller internacional que ha sido traducido a seis lenguas. Sus memorias de investigación, Beaver Street: Una historia de la pornografía moderna, fueron publicadas con aclamación de la crítica en los E.U. y el Reino Unido por Headpress. En el transcurso de una carrera diversa, ha editado revistas pornográficas y un periódico clandestino, discursos escritos por el Secretario de la Fuerza Aérea, y se le ha otorgado el premio de poesía Hugo Boss. La obra de Rosen ha aparecido en publicaciones de todo el mundo, incluyendo The Village Voice, The Independent (R.U.), Uncut (R.U.), Erotic Review (R.U.), Mother Jones, The Soho Weekly News, La Repubblica (Italia), Dagospia (Italia), VSD (Francia), Proceso (México), Reforma (México), y El Heraldo (Colombia).
Nacido en Brooklyn, Rosen asistió a la Erasmus Hall High School y al City College de Nueva York, donde estudió escritura creativa con Joseph Heller y Francine du Plessix Gray. Vive en Manhattan con su esposa, Mary Lyn Maiscott, una cantante compositora y periodista de música. Ambos hacen trabajo editorial freelance para la revista Vanity Fair.
Robert Rosen is an American writer born in Brooklyn, New York, on July 27, 1952. He is the author of Nowhere Man: The Final Days of John Lennon, a controversial account of the ex-Beatle's last five years, based on Rosen's memory of Lennon's diaries.

His investigative memoir, Beaver Street: A History of Modern Pornography, was published by Headpress in the U.K. in 2011 and in the U.S. in 2012.

Village Voice columnist Michael Musto called Beaver Street "entertaining, insightful, and hot." Jamie Maclean, editor of the Erotic Review, said, "Beaver Street captures the aroma of pornography, bottles it, and gives it so much class you could put it up there with Dior or Chanel." Beaver Street was a "Hot Type" selection in Vanity Fair (April 2012) and Vanity Fair UK (February 2011) .

Rosen defines "modern pornography" as the fusion of erotica and computers, which first occurred at High Society magazine in 1982 with the advent of "free" phone sex.

Beaver Street is based on diaries Rosen kept while working in porn for 16 years as a magazine editor, and on extensive research. Among the dozens of magazines Rosen edited or contributed to are High Society, Swank, Stag, and D-Cup. In Beaver Street he explores the nexus where cutting-edge technology meets raw sex, generating vast fortunes for the largely anonymous men who run America's "adult entertainment" empires.

One key segment of Beaver Street tells the story of how in 1986 Ronald Reagan's Attorney General Edwin Meese tried to destroy the porn industry by using porn star Traci Lords in a sting operation. According to the book, federal agents, though aware that Lords was underage, allowed her to continue performing in dozens of X-rated movies, and then arrested some of the filmmakers, and Lords' agent, Jim South, on child exploitation charges.

A chapter titled "The Accidental Porn Star" details Rosen's experiment in participatory journalism—posing for an X-rated photo shoot.

Beaver Street also explores the history of Swank Publications, which emerged from Martin Goodman's Magazine Management Company, a publisher of "men's adventure" magazines and comic books. Founded in 1932, Magazine Management gave rise to Marvel Comics and in the 1950s and 1960s employed novelists like Mario Puzo and Bruce Jay Friedman as writers and editors. The company then mutated into a publisher of pornographic magazines under Martin Goodman's son Charles "Chip" Goodman.

Early life and education

Rosen attended Erasmus Hall High School in Brooklyn. He studied writing at the City College of New York—with Joseph Heller, James Toback, and Francine du Plessix Gray—where he edited Observation Post (OP), one of the student newspapers.

Career

Rosen worked as a freelance journalist and a men's magazine editor at High Society and Swank Publications. Rosen's own erotica was often written under the pen name Bobby Paradise. He was briefly a speechwriter for U.S. Air Force Secretary John L. McLucas and wrote about this experience in Mother Jones ("Nervous Leaks at the Pentagon," Nov. 1979) and Rush, ("Ground Zero Paranoia," Oct. 1976).

Rosen's work has also appeared in Uncut, Headpress, La Repubblica, Proceso, Reforma, VSD, El Heraldo, and The Clinic.

Observation Post (OP)

During Rosen's tenure as editor, New York Senator James L. Buckley called for a federal investigation of Observation Post when, according to The New York Times of March 10, 1974, the paper ran a cartoon of a nun "using a cross as a sexual object." Also in response to the cartoon, a state senator, John Marchi, called for a ban on the use of student activity fees to fund undergraduate newspapers. But the controversy ended on April 17, 1974, when a New York Times editorial defended OP, saying that the Marchi bill was not a "constructive way to inspire faith in civil liberties, or to improve the responsibility or the taste of student editors."

In 1979, an OP editor posed for a series of photographs that recreated the nun cartoon, and published them in OP. According to the May 24-30, 1979, issue of The Soho Weekly News, these photographs prompted the City University chancellor to publicly apologize to Cardinal Cooke; the Board of Higher Education to demand the criminal prosecution of OP's editors on obscenity charges; and the student body of City College to vote to eliminate OP's funding and end the paper's 32-year run.

In a piece titled "Nun the Worse for Wear" that ran in the same issue of The Soho Weekly News, Rosen, in one of his first experiments with participatory journalism, told the story of the nun from his own point of view: as the editor who originally published the cartoon and as the domestic partner of the editor who posed for the photographs.

Nowhere Man

According to Nowhere Man, Lennon's diaries were given to Rosen in 1981 by Frederic Seaman, Lennon's personal assistant. Seaman told Rosen that Lennon had given him permission to use the diaries as source material for a biography that Seaman was to write in the event of Lennon's death. Five days after Lennon's murder, Seaman told Rosen that it was time to begin the project.

According to Rosen's testimony at Seaman's copyright infringement trial in September 2002—the verdict gave Yoko Ono control of more than 300 photographs Seaman took when he was the Lennons' employee—Seaman sent Rosen out of town in February 1982 and then ransacked his apartment, taking everything Rosen had been working on, including Lennon's diaries, photocopies of the diaries, transcripts of the diaries, and a rough draft of the manuscript.

According to Nowhere Man, Rosen then recreated from memory portions of Lennon's diaries and combined this information with details from his own diaries about what had happened since Lennon and Ono hired Seaman in February 1979. A version of the manuscript was completed in 1982. An expanded version containing virtually all of the original material was published 18 years later. The book became a bestseller in the United States (Los Angeles Times, September 3, 2000), England (Mojo, October 2000), Japan (Amazon.co.jp, October 2000), Mexico, and Colombia.

Relationship with Yoko Ono

According to Nowhere Man, Rosen submitted his manuscript to Jann Wenner, editor and publisher of Rolling Stone, in July 1982. Wenner told Rosen that he couldn't publish the manuscript and that Rosen's only option was to tell his story to Ono. Rosen met with Ono at the Dakota in September 1982. She told him that she wanted to know everything that had happened since she'd hired Seaman, and asked to read his personal diaries. She also agreed to put Rosen on her payroll. The following day Rosen loaned Ono 16 volumes of his diaries, which she kept for 18 years, returning them as the first edition of Nowhere Man was going to press. She later asked Rosen to testify on her behalf at Seaman's copyright infringement trial.

Playboy Article

Rosen also sent the Nowhere Man manuscript to Playboy magazine and met with its executive editor, G. Barry Golson, in July 1982. Golson then assigned a story about Lennon's diaries to David Sheff and his wife at the time, Victoria Sheff. Ono cooperated with Playboy on the piece and gave the Sheffs access to Rosen's diaries. From the half-million words he'd written in the diaries, the Sheffs excerpted about 200, including Rosen's comment about Ono's skillful exploitation of the Lennon legacy: "Dead Lennons=BIG $$$$$." The article, "The Betrayal of John Lennon," which ran in the March 1984 issue of Playboy, portrayed the comment as Rosen's indictment of his own and Seaman's behavior.

According to Rosen, the day the article was published, the Manhattan district attorney told him that he'd be arrested if he didn't sign a document forfeiting his First Amendment rights to tell the story of John Lennon's diaries. Rosen didn't sign the document and he was not arrested.