So What Do the Germans Think of This Book?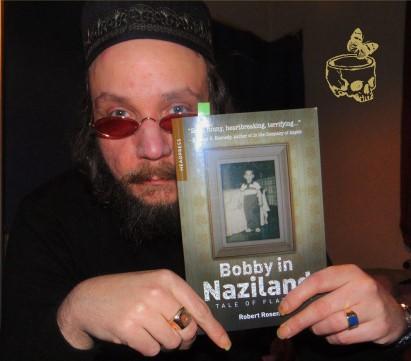 January 13, 2020
Mark Kaufmann, an artist and critic living in Munich, is the first German I'm aware of who's read Bobby in Naziland. Born in 1978, long after most of the events that I describe in the book take place, Kaufmann speaks for himself—not the entire German nation. But in his review he makes two points that I think are representative of the majority of Germans, at least those of his generation: The crimes against humanity the Nazis committed during World War II remain as relevant today as they did 75–80 years ago. And Bobby in Naziland should be required reading in German schools.
The review, below, appeared on Kaufmann's Website, MÄCKs blog.
Before I start with the 15th part of my bedtime reading series and praise the book to undreamt-of heights, I must say in advance that I have known the author for about 15 years. Not real-authentic, but through different so-called social media platforms. It started with the reading of his first work, Nowhere Man, which traces the last years of John Lennon's life. As a Lennonologist I had some questions of course, and after a while, a kind of friendship developed. (He even lit a candle at the Strawberry Fields mosaic in Central Park once, substituting for me – isn't that nice?)

Of course I got his second book, Beaver Street, in which he reviewed his years in the New York porn industry in the 80s (he was editing some adult magazines). Unfortunately this book is not yet available in German language.

So is his third work, published in 2019: Bobby In Naziland. Rosen goes back to his past once again, this time to his childhood and youth.
Here is a small excerpt from the flap text:
From the final days of the Brooklyn Dodgers in the mid-1950s to the arrival of the Beatles in 1964, Bobby in Naziland is an unsentimental journey through one Brooklyn neighborhood. Though a 20-minute and 15-cent subway ride from the skyscrapers of Manhattan, Flatbush remained provincial and working-class – a place where Auschwitz survivors and W.W.II vets lived side by side and the war lingered like a mass hallucination.
Meet Bobby, a local kid who shares a shabby apartment with his status-conscious mother and bigoted father, a soda jerk haunted by memories of the Nazi death camp he helped liberate. (…) Drawn to images of mushroom clouds and books about executions, Bobby ultimately turns the seething hatred he senses everywhere against himself.
From a perch in his father's candy store, Bobby provides a child's eye view of the mid-20th-century American experience – a poignant intertwining of the personal and historical.
The approximately 180-page book contains 20 chapters that read like short stories (absolutely my profession). I also have the impression that Rosen gets better at writing from book to book. I like his style, especially the fact that he writes uncensored – that means that you shouldn't necessarily put it into the hands of primary school kids. Plus: "The writing is fluid and poetic", as one Amazon reviewer commented. Damn right!
The really special thing about the book is the fact that Rosen is able to bring the horrors of the Nazi regime to life in a certain way. Of course you can shrug your shoulders and say that all this was so long ago and has no relevance today. The opposite is the case! Especially I as a German, even if I was born in 1978, am sensitive enough to take a closer look. If you see it that way, this book would make a very good addition to the lessons at German schools.
All in all, the book is humorous, serious, sometimes even oppressive (for example the chapter Naziland). Bobby in Naziland is one of those books that makes you quite discontented at the end – because it's already over. There could have been few more chapters. I would be happy to have it translated into German… Actually, they could make a movie out of it, I have all the pictures in my head already, but unfortunately I am not a director.
Well done, Herr Rosen! When will the next book be published?
P.S.: One point deduction for daring not to mention me in the acknowledgement section. For this faux pas you have to buy me an egg cream, should I ever stay in NYC.