May 18, 2022
In 2016, at the age of 63, Jerry Stahl, a writer best known for his addiction memoir Permanent Midnight and his work on TV sitcoms like Alf, was contemplating suicide. His marriage and career had fallen apart; he'd been diagnosed with hepatitis C; doctors had found a suspicious mass on one of his kidneys; and a botched surgery had left him "wearing a bag" for what he thought would be the rest of his life. But instead of jumping off a bridge, as he was planning to do, he chose to find a reason to continue living. Stahl decided to go to "Naziland" to take a guided tour of concentration camps in Germany and Poland. He wanted to come "face to face with the Giant Maw of Hell" and experience up close "the darkest stain on humanity." This, he thought, would allow him to put his own problems in perspective.
He then wrote a book about it.
In 1956, at the age of four, I became aware I was living in a place where people who'd survived the concentration camps of Germany and Poland were everywhere—in the stores, in the streets, on the subway. Some of my neighbors were mutilated, and so many others, more than I could count, had those blue numbers tattooed on their forearms. Between the concentration camp survivors and the army veterans like my father, who'd fought the Nazis, not a day passed when I didn't hear somebody talking about Hitler and Germany. It was as if World War II hung like a mass hallucination over Flatbush and other large swaths of Brooklyn. William Styron, who spent a few months in Flatbush in 1949, noticed it too and set his autobiographical Holocaust novel, Sophie's Choice, in a rooming house where he and the title character both lived, across the street from my grade school.
In an effort to make sense of what I'd experienced as a child but had blotted from my memory for most of my life, at the age of 63 I began writing a book about Flatbush, a neighborhood I'd come to think of as "Naziland."

A Brooklyn Memoir is a journey back to a metaphorical Naziland.
That Stahl's Nein, Nein, Nein! (Akashic Books, Brooklyn) and my book, A Brooklyn Memoir (Oil on Water Press, London), are being published two days apart, on July 5 and 7, by different publishers in different countries, is hardly a coincidence. With the youngest surviving World War II veterans in their 90s, and the youngest surviving concentration camp inmates in their 80s (two people born in Auschwitz are known to be alive), these two books, mirror images of each other, are part of a sudden outpouring of literature, film, and journalism about the Holocaust and the war while they remain in living memory.
The most recent example, the HBO movie The Survivor, directed by Barry Levinson, is based on the true story of Harry Haft, played by Ben Foster, an Auschwitz inmate who survives by performing in to-the-death boxing matches with other prisoners for the amusement of his Nazi captors. After the war, Haft resettles in Brooklyn, among a multitude of fellow survivors, and becomes a professional boxer with a bad case of PTSD.
Films such as Dara of Jasenovac, from Serbia, about the Jasenovac concentration camp; The Auschwitz Report, from Slovakia, about an escape from Auschwitz; and L'equilibrista con la stella (The tightrope walker with the star), from Italy, about a circus performer who hides a Jewish girl from the Nazis, were released in 2021.
A casual perusal of any news site confirms that this global outpouring is a trend that's gathering momentum. The periodicals of April (coincidentally the month of Hitler's birth) and early May (coincidentally the month of Germany's surrender) contained the following headlines:
"Harald Jähner: The German author on struggling to forgive his parents' generation" —The Guardian, April 9
"They Are the Heirs of Nazi Fortunes, and They Aren't Apologizing" —The New York Times, April 19
"Adolf Hitler 'had Jewish origins', claims Russian minister Sergei Lavrov in rant" —Sky News, May 1
"My Great-Uncle, The Holocaust's First Jewish Victim" —The Atlantic, May 5
The war in Ukraine and a rising tide of neo-Nazism, Trumpism, and Holocaust denial seems to have inspired a need to produce accounts of 80-year-old atrocities while eyewitnesses still walk the earth. In Nein, Nein, Nein! and A Brooklyn Memoir, Stahl and I—Jewish writers born one year apart—have immersed ourselves in the details of those atrocities.
One of the eeriest resemblances between the books involves our descriptions of the freezing/thawing "medical" experiments the Nazis were so fond of conducting.
One of the eeriest resemblances between the books involves our descriptions of the freezing/thawing "medical" experiments the Nazis were so fond of conducting. The ostensible purpose of "The Treatment of Shock From Prolonged Exposure to Cold, Especially in Water," as the experiments were bureaucratically known, was to determine how long it took a man to die in freezing water. The answer according to Dr. Sigmund Rascher, who was in charge of the experiments and guarded his turf jealously: 80 minutes to 6 hours if the subject was naked; 6 to 7 hours if he was clothed.
From Nein, Nein, Nein!, when Stahl is touring Dachau:
Another of Rascher's ideas was to enlist the aid of prostitutes, often Romani ladies plucked from the women's concentration camp at Ravensbrück. The doctor's idea was to press the poor, unconscious individual's body between the females for a slow "body massage." This last, for reasons we can probably surmise, was so appealing to Rascher, he brought in Himmler to observe the proceedings.
From A Brooklyn Memoir, when I'm describing the Eros/Thanatos thrill of reading, at age eight, William Shirer's The Rise and Fall of the Third Reich:
Naked men were put outside in sub-zero temperatures and doused with cold water every hour until they stopped screaming. Then, on the verge of death, they were brought inside so Nazi doctors could conduct "warming experiments"—from which they concluded that the best way to thaw out a frozen man was to put him in bed with one or more naked women, and let the women's body heat warm him as they had "intercourse." The doctors also determined through repeated testing that one naked woman unthawed a man faster than two, because, they deduced, a "chilled man" and one woman were both less inhibited and clung more closely to each other during the sexual act.
Similar descriptions, often laced with dark humor, occur throughout both books and demonstrate one effect the Holocaust had on an overlooked segment of the post–World War II generation. While literature about the trauma of children born to Holocaust survivors, like Art Spielgelman's Maus, proliferates, Nein, Nein, Nein! and A Brooklyn Memoir (originally titled Bobby in Naziland) are the only books I'm aware of about those of us born in the late 1940s and early 1950s who had no family connection to Holocaust survivors yet were unable to escape the trauma. Because if you grew up Jewish in a Jewish neighborhood in those early postwar years, the Holocaust was an unavoidable reality that you were veritably marinated in—I've known what Auschwitz meant for almost as long as I've understood language.
Stahl and I both became obsessed with the mechanics of the Final Solution—the trains, the gas chambers, the crematoria.
He grew up in Pittsburgh and writes about how his father, who died by suicide when Stahl was a teenager, had escaped from Lithuania at age 10, after his own father was killed in a pogrom, but never spoke of his "missing years"—which led to Stahl's feeling a "nameless guilt" because he had it so easy while his father had it so hard.
My father, an infantry veteran who'd participated in the liberation of a slave labor camp, never spoke to me in detail about what he'd experienced, despite my persistent questions. But beyond my proximity to a bitter man haunted by what he'd witnessed were the stories my mother told me. Obsessed with the need for Adolf Eichmann, organizer of the Final Solution, to pay the ultimate price for his crimes against humanity, she was more than willing to discuss the things my father refused to talk about—like the slave labor camp he liberated and how the gas chambers worked.
Because so many Flatbushians were either war veterans or Holocaust survivors, a significant portion of the population—as Levinson shows in The Survivor—were suffering from some form of PTSD (as it was not yet called). And that trauma inevitably filtered down to those of us who'd not experienced the traumatizing events firsthand. The PTSD showed itself in the rabid hatred and bigotry of both adults and children towards anybody outside their tribe. And it showed itself in the perpetual violence among the kids, who routinely beat the shit out of each other for no discernible reason.
The two books often alight upon the same Holocaust-adjacent cultural touchstones—the Three Stooges, for example.
The two books often alight upon the same Holocaust-adjacent cultural touchstones—the Three Stooges, for example.
In A Brooklyn Memoir, I cite the Stooges' Jewishness, mention that Moe Howard went to my high school, Erasmus (he dropped out), and describe the live appearance the threesome made at a local movie theatre packed with Stooge-crazy kids to promote their 1962 film The Three Stooges in Orbit.
In Nein, Nein, Nein!, Stahl cites a 1940 Stooges short, You Nazty Spy. Moe plays Hitler, Larry plays propaganda minister Joseph Goebbels, and Curly plays Gestapo head Hermann Goring (Field Marshall Gallstone in the movie). The Stooges considered it one of their finest films—certainly superior to The Three Stooges in Orbit—and it was the first film to satirize Hitler, released nine months before Charlie Chaplin's The Great Dictator.
Then there's Donald Trump—because these days you can hardly write a book about Nazis without referencing him. In his cameo appearance in A Brooklyn Memoir, I say that the twice-impeached president grew up in Queens, where he was exposed to an even more virulent strain of bigotry than I was exposed to in Flatbush. Trump's feral genius is his Hitler-like ability to transform that hatred into political power.
Stahl describes Trump as "an anti-Semitic sleazeball" and blames him for "fucking up" his book. When he began writing Nein, Nein, Nein!, in 2016, Trump was not yet president. By the time Stahl had finished writing it, in 2021, he says, his Trump vs. Hitler comparisons felt dated and played out. He also notes that the Trump-loving Proud Boys and other neo-Nazis and white supremacists are but pale imitations of the real thing—though he sees no difference between the forced hysterectomies ICE, under Trump, performed on migrant women and the Nazis' forced hysterectomies performed in concentration camps.
Stahl and I took different roads for different reasons to arrive at the same destination: Naziland. His visit to the real thing left him feeling only "an overwhelming emptiness." When I returned to my own metaphorical Naziland, I felt sadness, but it was tinged with nostalgia for the streets of my youth.
________
A Brooklyn Memoir is available for pre-order on Amazon and all other online booksellers.
I invite you to join me on Facebook or follow me on Twitter or my eternally embryonic Instagram.
April 20, 2022
A Brooklyn Memoir Interview
In the final part of my interview with author Marshall Terrill, we discuss A Brooklyn Memoir, my unsentimental journey through 1950s and 60s Flatbush, to be published by Oil on Water Press, July 7. We also talk about the as-yet-untitled book I'm currently working on, about America in the 1970s. The interview has been edited for clarity.
Marshall Terrill: Let's move to your new book, A Brooklyn Memoir, which is your most personal work to date. It captures so beautifully a special moment in time and a special place in America. What was the inspiration to write this particular book?
Robert Rosen: The opening pages of Beaver Street take place in my father's candy store in 1961. I knew I'd just scratched the surface with those few paragraphs, and I wanted to explore this time and place in more depth. There was something happening in that Brooklyn neighborhood—Flatbush—in the mid-1950s through the mid-1960s that was worth writing about. So I spent a couple of years writing down everything I could remember.
The more I remembered, the more I remembered. I wrote 400 single-spaced pages of notes, fragments, and anecdotes. I went through it looking for common themes and Nazis jumped out—they were everywhere. That's why the original title was Bobby in Naziland. I thought it was perfect—Mel Brooks meets Alice in Wonderland. So I was surprised when people came up to me at readings and said, "Loved the book. Hated the title." Then the pandemic hit. I had to stop doing events. Sales crashed. Bobby in Naziland wasn't a good title for a time when a virus was killing thousands of people every day. I thought that was the end of the book. I was surprised that the publisher wanted to re-release it under a new title. That's how Bobby in Naziland became A Brooklyn Memoir. They're going to do an audio book, too. I'm hopeful the book will find its audience this time.
MT: This is a book that almost every Boomer can relate to because there are so many milestones that everybody experienced together in America at that time. This memoir also has a New York twist in that it chronicles the neighborhood you grew up in, which was pretty tough. So with that said, was it a hard childhood or are you nostalgic about it now? How do you feel about it?
RR: I have mixed feelings. You say it was a tough neighborhood, and it definitely had that element. But if you compare it to Harlem or Bedford-Stuyvesant at the time, it wasn't so tough. I never heard about people in Flatbush shooting or stabbing each other. The main form of violence was fistfights. We had those every day. We were a bunch of kids running around beating the shit out of each other.
"I grew up in a neighborhood where a huge percentage of the people must have had PTSD."
I didn't realize until I started writing the book that between the Holocaust survivors and the World War II veterans, I grew up in a neighborhood where a huge percentage of the people must have had PTSD. How else can you explain this mindless violence? Sometimes you just passed somebody on the street you didn't like and started throwing punches. I probably beat up more people than beat me up. I guess I was a kind of bully, but everybody picked on weaker people. It makes no sense, but that's what we did. Am I nostalgic for it? When I go back to Flatbush, I do feel a certain nostalgia—for the streets, for the buildings, for the parks. But it was also claustrophobic. East 17th Street between Church and Caton Avenues, and Church Avenue between East 17th and 18th, were my whole world. It was a very limited world and I was happy to get out of there.
MT: Kicking ass and getting your ass kicked seems like a great way to steel yourself for this world.
RR: We were definitely free-range kids. My parents were the opposite of helicopter parents. As long as I didn't come home with torn pants after a street fight, they didn't seem that concerned with what I was doing. But I was constantly getting into fights and my father, if anything, encouraged it. He felt the best way to handle a bully was to punch him in the face. And I did do that. But I can assure you I'm a nonviolent person now.
MT: What does your old neighborhood look like today given that Brooklyn has gone through major gentrification?
RR: The block I lived on was pretty shabby and it seems to be the block that gentrification forgot. When I was writing the book, I went back there to check it out and refresh my memory. I walked into my building, and aside from the new doors on the apartments, nothing had really changed. I was on the staircase, taking pictures, when I saw a young Hispanic man walk into my old apartment. I tried to explain to him in my fractured Spanish that I lived there 50 years ago, and would he mind if I took a look at the apartment. He was not into that at all.
Around the corner, the place that used to be my father's candy store had been torn down and now it's part of the subway station. Though most of the buildings are the same, every store on Church and Flatbush Avenues had changed. I couldn't find one that was the same as when I was living there. Erasmus Hall High School still looks the same, and the original building, from the 1700s, is still standing. The Dutch Reform Church and its graveyard, across the street from Erasmus, is still the same. Flatbush itself has gone from being a predominantly Jewish neighborhood to a Caribbean neighborhood with a lot of Haitian people. Part of Church Avenue has been renamed Bob Marley Boulevard.
MT: One of the running themes of your book seems to be your fascination with the Holocaust survivors in your area and the national figures that emerged during that era. Can you explain that fascination and why and how it started?
RR: The part of the book about my father liberating a slave labor camp and seeing the piles of bodies—I heard about that from my mother. My father never said a word about any of that stuff. He never spoke in detail about his war experiences. He'd talk to me about the war in the most general way, though I'd occasionally overhear a thing or two—like bodies stacked like cordwood after the Battle of the Bulge, which I mentioned in the opening pages of Beaver Street. I used to ask him questions like, "Dad, how many Nazis did you kill?" and he'd always say, "Nobody." It wasn't until the end of his life, when he was in the hospital, that out of the blue, he told me the story about guarding German POWs after the war, and that he was prepared to kill them if they tried to escape. I took that to mean that he'd probably killed lots of Nazis—that's what you did when you were in the infantry, on the front lines.
My mother told me most of what I knew about the war and my father. She'd call me into the living room when there was something on TV about concentration camps. She knew I was interested. When The Rise and Fall of the Third Reich was published, I was in second or third grade. I was still reading Dick and Jane. Then I saw that book on the bookshelf with the swastika. I'd go through it and read the parts about concentration camps and gas chambers and medical experiments. I learned a lot from that book.
"They wanted to put Adolf Eichmann in a cage so people could walk by and spit on him."
My mother was obsessed with Adolf Eichmann, and she was thrilled when the Israelis captured him. She wanted to see Eichmann hang. Everybody wanted to see him hang. There was blood lust in the air. People in the candy store wanted to put him in a cage so people could walk by and spit on him. That's how I learned about the war—from watching TV, talking to my mother, and hanging around the candy store.
MT: Your father is pretty much the center of this book, and reading it, you couldn't help but feel his inner pain and frustration, although it seemed like he did a good job of hiding it from you. Do you believe he suffered from PTSD?
RR: Nobody knew what PTSD was. But in retrospect, yes. It goes a long way towards explaining his hatred of pretty much everybody who wasn't part of his tribe. He was constantly spouting bigotry and racism, and you have to wonder: Where did it come from? I think the war filled my father with a lot of hate because he experienced some genuinely traumatic things, like what he saw in the slave labor camp, or on the front lines, which he never spoke about.
MT: In the book you write about a war buddy of your father's visiting your apartment. Do you think part of his PTSD or frustration was that his missed his band of brothers and a sense of mission only to come back to Brooklyn and work in a candy store?
"It was quite a change for my father to go from saving the world from Nazis to working in a candy store."
RR: It was quite a change for him to go from saving the world from Nazis to working in a candy store. But I don't know if he had a sense of mission to lose. I think his mission was to stay alive.
The only person I ever met who was my father's buddy during the war was the guy with the artificial finger. I remember the night he came to the house. It was the late 1950s. They were sitting around the kitchen table, drinking coffee and talking about how cold it was at the Battle of the Bulge.
I know the war was traumatic for him because he refused his medals. Why would somebody refuse medals? I couldn't understand that when I was a kid. Something pretty bad must have happened, but again, he never, ever spoke about it.
MT: Speaking of horrors, that Brighton Beach passage you wrote about watching the Holocaust survivors in the locker room was haunting to read. What do you think that encounter did to you?
RR: It was the summer of 1962; I was nine, almost ten. In the locker room at Brighton Beach Baths I saw a bunch of old men standing around, speaking Yiddish. They had numbers on their arms, and their dicks and balls were missing. Whatever happened to them I figured must have happened in a concentration camp. I was horrified and it haunted me. I couldn't stop thinking about it for a long time. And yeah, it was traumatic.
MT: Did any of your dad's World War II medals and memorabilia survive and how do you feel about those possessions now?
RR: He had a canvas bag full of Nazi medals and bayonets and stuff like that. I detail the contents in the book. I don't know what happened to it and don't remember the last time I saw it. He probably sold it to a collector.
MT: We spoke of your fascination with Adolf Eichmann. But you also had a fascination with Julius and Ethel Rosenberg, who were convicted of espionage and executed by the government in 1953. Again, what was your fascination with their story?
RR: My mother brought the Rosenbergs to my attention because they were famous Jews who were in the newspapers every day. They looked like they could have been members of my own family, and their name was so similar. My grandfather was Julius Rosen. They had a kid named Robert, just a little older than me. I became fascinated by the idea that this husband and wife who looked like my cousins in the Bronx were sent to the electric chair. I had a morbid imagination. I became obsessed with the whole process of execution and sought out every bit of information about the Rosenbergs and capital punishment I could find.
MT: In the book you paint a picture of a time and place essentially that no longer exists: Coney Island, the local baker, the corner grocery, egg creams, street bullies, Boo Radley types, and that strange home in the neighborhood that every kid had a sixth sense about and learned to avoid. Looking back, how did these things shape you?
RR: Coney Island's still there. You can still find egg creams, but you have to seek them out. There are still bakeries. Corner grocery stores are called bodegas or delis. I don't know, specifically, how Flatbush shaped me. But much of what I experienced at the time I put into A Brooklyn Memoir. I wanted to share with people what it was like to be alive then so they could experience it in their imaginations.
MT: One of the two Holocaust survivors that I befriended told me that when he came to America, he was hosted by a family member and told that he shouldn't talk about what he had experienced because "nobody wants to hear it."
"I was a shy kid. I didn't go up to people and say, 'Tell me what happened to you in the concentration camp.'"
RR: I knew Holocaust survivors, but like the World War II vets, they didn't talk to me about their experiences. I would've liked to hear about it, I suppose, but I was a shy kid. I didn't go up to people and say, "Tell me what happened to you in the concentration camp." I'm not sure what they would have done if I'd said that. When Sophie's Choice came out, in 1979, I read it and was stunned that it was set in my old neighborhood. The house where Stingo and Sophie lived was across the street from my grade school. I walked past that house twice a day going to and from school. It was just a weird house. I didn't even know it was a rooming house.
MT: Your dad's candy store loomed large in your childhood. And while something like that sounded cool, you called it a tragedy. Why do you say that?
RR: Because my mother hated the candy store, and she told me every day how much she hated it. She'd talk about the store as if it were the worst thing that could have ever happened to us. She was a very intelligent woman who felt that she should be married to a professional anything, not a soda jerk. My father didn't complain about it the way my mother did, but he was unhappy working there. There were constant financial worries, though we never went hungry or couldn't pay the rent or anything like that. My mother's refrain was that money was only for necessities. I was always hearing, "We can't do that… we can't afford that." My father was never able to take a real vacation. It was just this constant, low-grade horror of being trapped forever in a candy store.
The store itself was a tiny, claustrophobic, filthy place. Of course teenagers came in and bought comic books and drank egg creams, but most of the people hanging out there were my father's cronies. They smoked cigarettes and talked about dirty books and magazines.
MT: Your memoir also touches on racism, but racism back then seemed to be equally spread out among all the ethnic groups. It seemed certainly a lot more tribal; there were Jewish neighborhoods, there were Italian neighborhoods, Irish neighborhoods. What was the difference between racism and bigotry in the 50s and 60s and racism and bigotry now?
"I heard the N-word 50 times a day."
RR: In the 50s and 60s, you could say anything you wanted—there was nothing hidden about the racism. It was something that you were exposed to all the time. I heard the N-word 50 times a day when I was a kid. It just flowed from everybody's lips. My father used it and a lot of people in my class used it, which was strange because there were virtually no Black people around. There were two Black kids in my grade school. Everybody else was white.
If you enlarge the photo, you can see my father's candy store with its Coke sign, at far left, with my father, wearing sunglasses, leaning out the window on the right side of the store.
There's a picture of Lyndon Johnson and Bobby Kennedy coming down Church Avenue in an open limousine, in October 1964, when Johnson was running for president and Kennedy was running for the Senate in New York. There's a massive crowd on both sides of the street. But there's not one dark face. That's how segregated the neighborhood was. What's also amazing about that picture is that I'd been studying it for years before I realized my father was in it, leaning out the window of the candy store. It just hit me one day. "Oh my God, that's my father!"
To answer your question, today, in most cases, you can no longer say the N-word. The racism is coded. People, especially politicians, talk in dog whistles, but it still means the same thing. Even white-power people and neo-Nazis don't use the N-word.
MT: When you turned 20, you took a life-changing trip to Israel and worked on a kibbutz. How did that trip connect you to your roots and give you a better understanding of your upbringing in Brooklyn?
RR: I don't know if it was really a life-changing trip but it was the first time I'd been that far from home. Before that, I'd gotten as far as eastern Canada—I'd hitchhiked to Nova Scotia in 1970.
In the epilogue of A Brooklyn Memoir, I'm on a beach in Israel about 14 miles from the Saudi Arabian border, and the Red Sea is in front of me. I'd finally made it out of Flatbush, and that was amazing to me. I was there with my girlfriend, whose family was wiped out in the Holocaust, everybody except her father and grandmother. I didn't know that Naomi, as I call her in the book, spoke fluent Yiddish, which a lot of people spoke in Israel. She had to learn Yiddish because it was the only language her grandmother spoke. The trip made me more aware that I was Jewish, which, after I finished Hebrew school, was something I didn't want any part of. I was a completely secular, assimilated Jew, and Judaism did not interest me. The trip to Israel made me realize that being Jewish is something you can't run away from. There's an old saying: If you forget you're Jewish, somebody will always remind you.
MT: Tell me what you're working on these days?
RR: I'm working on a book about the 1970s. It's set at a radical student newspaper at the City College of New York and focuses on the period when the student left gave way to punk. You can read an excerpt in The Village Voice, about the Weathermen, their Greenwich Village bomb factory, and their connection to the newspaper, Observation Post.
When the draft ended in 1973 and there was no longer a threat of being sent to Vietnam, the student left's energy drained away and flowed into punk. OP was a reflection of the chaos of the time. Once it was a voice of the antiwar movement, but by the late 1970s a topless dancer was the editor. OP became a scandal sheet, almost like Screw. She published her sex memoirs and sent correspondents to underground sex clubs, like the Mine Shaft and Hellfire. OP became the embodiment of the punk sensibility—outrage for the sake of outrage. I was living with the editor and I became kind of a ghost editor.
There's also a section about hitchhiking cross-country in the summer of 1974—with Patty Hearst, the Symbionese Liberation Army, and the Nixon impeachment playing out in the background and foreground. It's a snapshot of an America that no longer exists. Hitchhiking across America for "kicks" and "experience," as Jack Kerouac put it, is something sane people no longer do.
MT: That rebellion and the political activism of the 1960s and 1970s seem to resonate in today's society. Do you see that correlation as well?
RR: When Donald Trump became president, my wife and I took part in that huge demonstration after he was inaugurated. So I'd say yes, there's definitely activism now. People feel threatened by climate change. States like Arizona and California are running out of water and are having devastating fires. And a lot of people, myself included, do not want a fascist minority government to be in charge of the country. People are threatened by these things, and when people feel threatened, it leads to activism. That's what happened in the 1960s and early 70s, when people were threatened by the draft and Vietnam. People are again feeling threatened by more things than they can keep track of.
________
My latest book, A Brooklyn Memoir, is available for pre-order on Amazon and all other online booksellers.
I invite you to join me on Facebook or follow me on Twitter or my eternally embryonic Instagram.
January 25, 2022
It's been a while since I've posted but yes, I'm still here, preparing for the July 7 publication of A Brooklyn Memoir: My Life as a Boy, now available for preorder on Amazon. (A huge thanks to everybody who already preordered!)
This isn't the final version of the cover that Amazon's displaying, though they'll have one soon enough.
I should also add that A Brooklyn Memoir will be available as an audio book—the first one of my books in that format.
I've been busy with things, too, though (as Bartleby might say) I'd prefer not to talk about them… yet.
So that's the news from here, such as it is. Wishing you all a very belated and Covid-free happy new year!
________
A Brooklyn Memoir is available for pre-order on Amazon and all other online booksellers.
I invite you to join me on Facebook or follow me on Twitter or my eternally embryonic Instagram.
December 13, 2021
One thing I'm celebrating this holiday season is the impending re-release, on July 7, 2022, of my latest book, now titled A Brooklyn Memoir. Originally called Bobby in Naziland, it was first published in the "before times," in late 2019. Sales were brisk, reviews appreciative—"[Rosen] reminded me of Philip Roth in Portnoy's Complaint," said the Erotic Review—and events well attended. (Thank you, Subterranean Books in St. Louis!) Then came Covid and that was the end of that. My last public event, February 1, 2020, at Books and Books, in Coral Gables, Florida, seems like it took place in another life.
In the midst of the pandemic, I was ready to forget about Bobby in Naziland. But the publisher, Headpress, had other ideas. They felt the title, which we originally saw as a darkly amusing tip of the hat to Mel Brooks and Alice in Wonderland, wasn't playing well while a virus was killing thousands of people every day. But they thought the book was too good to abandon, so they decided to try again with the new title.
I love the colorized cover. That's me, my father, and a neighbor's dog, around 1957, on Church Avenue in Brooklyn, down the block from my father's candy store, where much of the action takes place.
A Brooklyn Memoir is available for pre-order on Amazon and Barnes & Noble and from independent bookstores. Or if you need a Christmas gift now, Bobby in Naziland, destined to be a collector's item, remains in stock.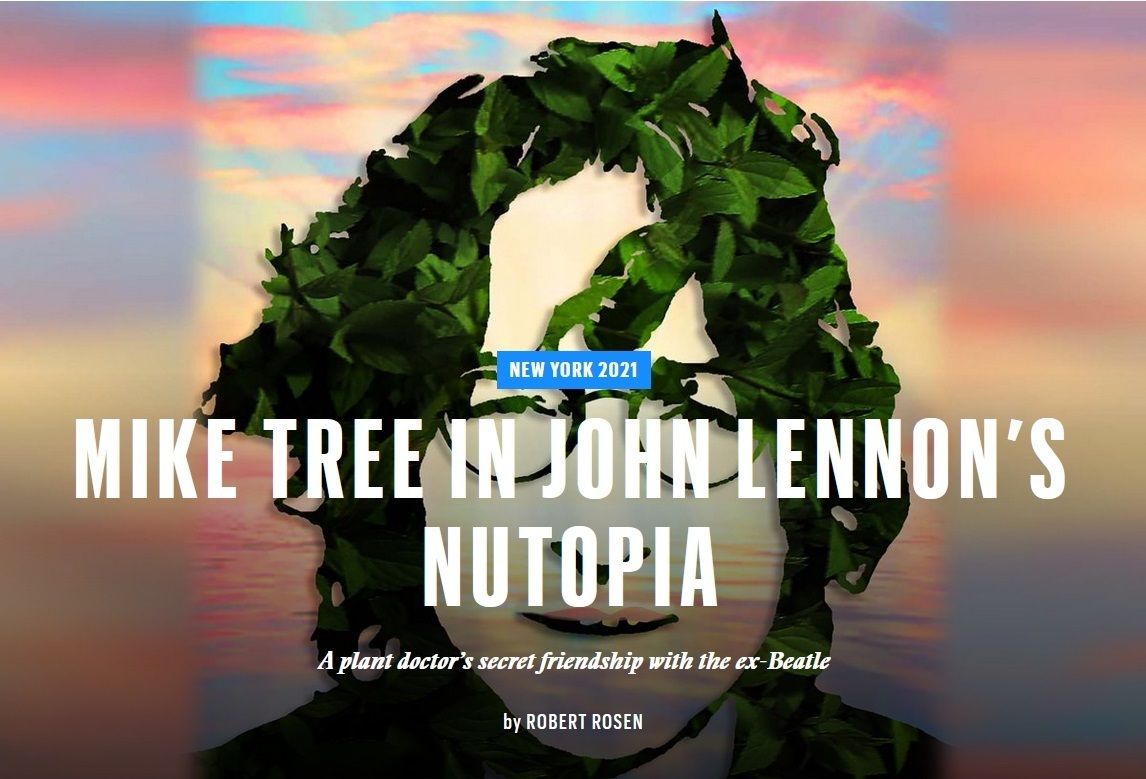 Speaking of second chances, The Village Voice, which had been around since 1955 but had ceased publication in 2018, was resurrected this year. I was happy to become a contributor. My story, "Mike Tree in John Lennon's Nutopia," started out on this blog as "Catch and Kill, Ono-Style?" That it found its way, after some revisions and additions, into a venerable publication is one more thing to celebrate.
Happy holidays to one and all!
________
A Brooklyn Memoir is available for pre-order on Amazon and all other online booksellers.
I invite you to join me on Facebook or follow me on Twitter or my eternally embryonic Instagram.